Standard Buildings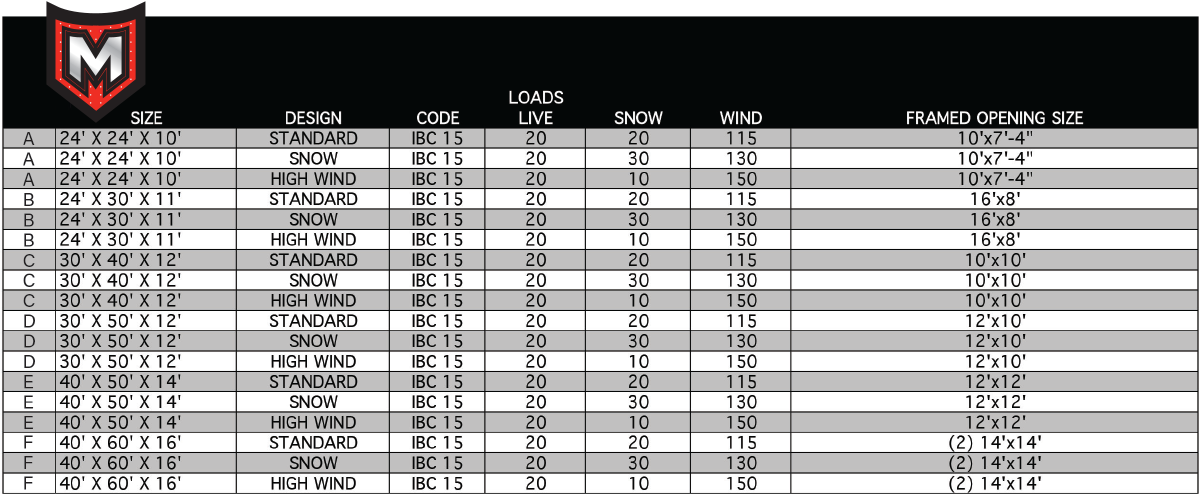 Other sizes also available. See your local Metal Mart for details.
Standard Building Features:

• 1:12 Roof pitch
• Bolt together frame
• 8" Rigid Frame Straight Columns combined with flush cee girts allow for flush walls ready to finish out
• Welded clips on end wall connections
• No loose connection plates (except @ door header)
• R-Panel-PB 26 GA Galvalume plus roof w/ 20-year warranty
• R-Panel 26 GA sil-poly painted walls w/30-year warranty
• Standard trim package (header, jamb, eave, base, O.C., gable and ridge cap)
• 1 framed opening centered on end wall (door not included)
• 40' x 60' x 16' has two framed openings (one in each end wall)
• Includes anchor bolt plans and full erection drawings
DOES NOT INCLUDE:
• Delivery to job site
• Anchor bolts
• Gutter and downspouts
• Roll-up doors, walk door, windows
• Insulation
• Engineering seal on drawings
*Items listed above can be added for an additional charge by your metal mart store on final quote.
Custom Buildings:
Monarch offers buildings in non-standard sizes. Clear span gable roof buildings up to 100' wide, single slope up to 60' wide, main frame spacings up to 30', eave height up to 30', end wall frame bay spacings up to 20', roof pitches up to 6:12, lean-to roofs & enclosures, eave extensions up to 10' free standing & gable overhangs up to 5' free standing.
CODE AND LOAD: Buildings are designed to the building codes and loads listed. It is the responsibility of the customer to determine if the products supplied by Metal Mart are in accordance with the building codes and loads required. Please contact your local permitting office for specific requirements.

BUILDING OCCUPANCY: Buildings are designed as risk category II

NOTE: These are kits intended to satisfy the fastest lead time requirements and to offer our most competitive prices. Many other sizes and options are available. An engineer's seal is also available on any building for an additional $200 fee.